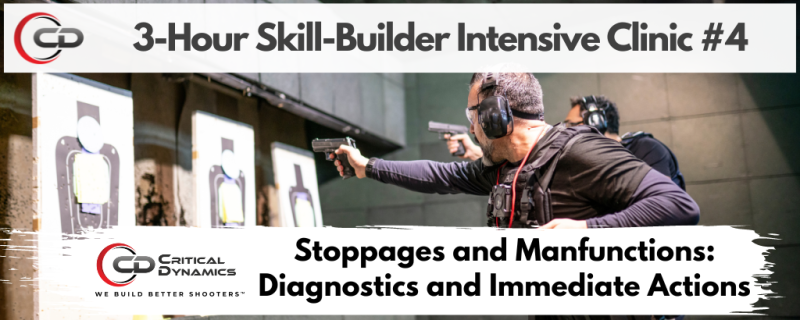 Pistol Skill-Builder Intensive Clinic #4: Stoppages and Malfunctions: Diagnostics and Immediate Actions (Concord, NH)
$7000
This 3-hour intensive skill-builder clinic will bring the students through a 'basics of safety' review, then transition into training modules that compare and contrast stoppages and ammunition-related malfunctions, providing an understanding of the critical differences between the two, and teaching the student how to properly diagnose and tactically remediate the dreaded "jam." (Unless it's strawberry jam. Then it's not dreaded. Because strawberry jam is yummy.) Students will also learn the principles behind safe and efficient one-handed immediate-action procedures. All of these concepts will be incorporated and interleaved throughout the remaining four Skill-Builder Intensive Clinic sessions.
Tuition includes instruction, all applicable range fees, and targets.
The Stoppages and Malfunctions: Diagnostics & Immediate Actions Skill-Builder Intensive Clinic is professionally instructed by actively certified and credentialed law-enforcement tactical firearms master instructors.
PREREQUISITES:
At a minimum, students must be able to demonstrate their understanding of basic firearms safety and handling concepts. Completion of a basic firearms course (NRA First Steps Pistol, NRA Basic Pistol, or another basic pistol course) is preferred but not required.
This clinic is NOT suited for the novice or beginner shooter.
The training cadre reserves the right to immediately remove from the program any student who lacks sufficient understanding of basic safety practices or basic operational procedures using a semi-automatic pistol.
EQUIPMENT REQUIREMENTS:
1. Semi-automatic Pistol chambered in one of the following calibers: .380acp, 9mm, 10mm, .40 S&W, .357SIG, .45acp or .45 GAP. It is HIGHLY recommended that students bring and train with the firearm that they plan to use or carry for defensive purposes. Pocket guns such as Ruger LCP, S&W Shield, Glock Model 43, or other sub-compact guns are highly discouraged.
2. Sturdy Waist Holster is required. External belt-mounted or waistband-mounted holsters are preferred. IWBs (In-waistband holsters) are permitted, provided that they support easy one-handed re-holstering.
For safety reasons on the range, our classes will use strong-side holsters only! - (No cross draws, shoulder rigs, pocket holsters, ankle, appendix, or small of the back carry).
Don't have a quality holster? Give us a call. We have excellent and affordable options that are available for purchase.
3. Magazines: Students should bring a MINIMUM of three (3) magazines. Two magazines will work, however having only two magazines will slow the student down.
4. Magazine holder or magazine pouch. Open, friction-lock-styled single or double holders are recommended over those with velcro or snap closures.
5. Ammunition: 75 rounds.
Ammunition should be factory-manufactured. Reloads are strongly discouraged. Ammunition for class IS available at cost with prior notification.
6. Snap-Caps/Dummy Rounds: Students should bring a MINIMUM of four (4) snap-caps or dummy rounds PER MAGAZINE. (2 magazines = 8 snap-caps, 3 magazines = 12 snap-caps, etc.) These may be purchased from retail outlets like Bass Pro Shops or your local firearms retailer NOTE: Snap caps may be purchased directly from Critical Dynamics at significant savings (approximately 50%) under retail pricing. You will be given an option to purchase directly from Critical Dynamics at the time you register for this class.)
7. Eye Protection, Ear Protection, and Baseball Style Cap: Sunglasses may be worn in conjunction with a baseball cap with the bill worn forward. Safety glasses must be of the wrap-around type or employ side panels. If wearing prescription glasses, they must be covered with safety glasses unless they meet the above requirements. Earplugs or earmuffs (preferred), and it is highly recommended that a baseball cap with a bill to deflect ejected brass be worn.
8. Appropriate Clothing: Students should bring appropriate clothing to participate in the classroom portion of the training. Students should bring appropriate clothing to participate in the range exercises consistent with prevailing weather and temperature conditions. Range exercises will be conducted in inclement weather unless a safety hazard exists. NOTE: Sandals, flip-flops, or any other form of open-toed shoes are NOT range-appropriate.
ABSOLUTELY NO: Camouflage fatigues, flak jackets, tactical vests*, bright red shirts, or bright red outerwear!
*Law enforcement officers and licensed armed private security officers are permitted to wear tactical vests if they are department/agency issued and/or approved. 
9. Note-Taking Material: A pen and a pocket-sized notebook for note-taking is highly recommended.
Session 2:

Oct

10th

,

2023

from

6:00 - 9:00 pm
Pioneer Sportsmens Club
21 Farrington Corner Road
Dunbarton , NH 03046 Get directions
Room: Indoor Range